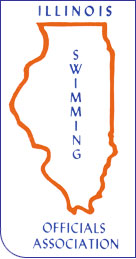 President
Steve Fedota
Vice-President
Gwen VanSteen
Secretary
Jim Katula
Treasurer
Fred Gafrick
Member-at-Large
Mike Hutton
Most Recent:
ISOA News
State Series Contracts
(added 9-15-2022)
Contracts for State Final volunteer officals are online now in your Official's Center on the IHSA website. If you would like to volunteer, please respond by 10/4. We need 36 volunteers, and we need more people on Friday than we do on Saturday.
If you can only do one of the two days, please e-mail Mike Hutton with your request. I will accommodate as many as possible.
Contracts for Sectional meets, State Final head officials and the State Final diving panel will be available in the coming weeks.
As a reminder, Sectionals on on Saturday 11/5, and the State Final on Friday-Saturday, 11/11 & 11/12.
Point of Emphasis Clarification
(added 9-2-2022)
Regarding exhibition divers:
There may NOT be more exhibition divers in the diving event as there are exhibition swimmers in any swimming event, even with prior mutual consent.
EXAMPLES:
1) A two-level dual meet in a 6-lane pool: With 3 lanes available for each team (all of which have the opportunity to score,) there will be no lanes available for exhibition swimmers, so NO exhibition divers would be permitted either, even with prior mutual consent.
2) A three-level dual meet in an 8-lane pool: With 3 lanes available for scoring entries for each team in each swimming event, there would be 1 lane for each team to use for an exhibition swimmer. Therefore, 1 exhibition diver (per level) would be allowed. So, the total number of divers cannot exceed 12 for each team. (3 freshman, 3 JV and 3 Varsity + 1 exhibition at each level.)
The NFHS language on this can be found at the top of page 9 of the "Diving Official's Guidelines Manual" at the link below:
https://nfhs.org/activities-sports/swimming-diving/
Questions may be directed to any rules interpreter - Mike Hutton, Kevin Moss or Joe Plack.
Latest Edition Of Newsletter Available
(added 8-25-2022)
The latest edition of the ISOA newsletter, "The Long Whistle" is available HERE or by following the link on the navigation bar on this page.
Proposed Constitutional Amendment
(updated 3-15-2022)
Although the commentary period has expired, members may view the text of a proposed Constitutional Amendment by CLICKING HERE. The board expects to have the membership vote on the proposal at the November, 2022 Annual meeting.