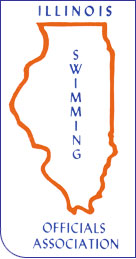 President
Vice-President
Secretary
Treasurer
Member-at-Large
ISOA News
Rule 3-5 Clarification - Electronic Equipment Use During Diving (added 10-5-18)
Recently, some confusion has arisen over the use of a DVR / TV to be used and played during diving competition, as is seen at some schools. Officials are reminded that this equipment should be turned OFF during competition.
Rule 3-5 states, "Electronic devices shall not be used to transmit information to competitor(s) during the race or dive."
While the word "dive" is singular, Illinois has long held that to mean the entire diving EVENT, which consists of either six (6) or eleven (11) dives.
It is also important to note that using a DVR or other camera to record a diver during competition so that coaching and instruction may occur later IS acceptable. The rule only prohibits the transmission of images or information during an event. If the monitor is turned off or covered, the rule is satisfied.
Support Breast Cancer Awareness Month (added 10-1-18)
The IHSA is once again supporting breast cancer awareness month in October. They have approved officials using pink whistles / lanyards if you so choose. Officials may purchase this equipment directly from FOX40 by CLICKING HERE. Rember to use promo code IOA25 at checkout, and you'll receive a 25% discount!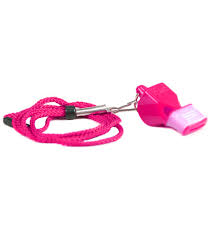 September Income Statement Available (added 10-1-18)
The September Income Statement is available by CLICKING HERE.
Membership Directory Updated (added 9-11-18)
The 2018-19 Membership Directory has been updated, and you may access it by CLICKING HERE. Members whose renewals were received before September 10 are included. If your new or renewal application was received after this date, you will be included in the next update (approximately late-November 2018.)
If you just see a member's name and no other data, it is because they did not want it published online.
Dual Confirmation Mechanics Clarification (added 9-4-18)
There has recently been a great deal of confusion (and therefore inconsistency) regarding dual-confirmation. When is it to be used? When is it not to be used? Do we raise a hand? If so, when?
Please refer to the following Q&A document, which hopefully will clarify things. The IHSA has reviewed and does support this information.
You may view the material by CLICKING HERE.