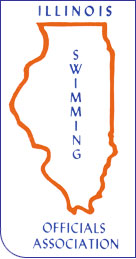 President
Vice-President
Secretary
Treasurer
Member-at-Large
ISOA News
ISOA Annual Meeting (added 11-12-18)
The ISOA Annual Meeting will be Saturday, November 17 at 8:30AM at Evanston Township High School in Room G-180 in conjunction with the Girl's State Final.
October Income Statement Available (added 11-1-18)
The October Income Statement is available by CLICKING HERE.
Rule 3-5 Clarification - Electronic Equipment Use During Diving (added 10-5-18)
Recently, some confusion has arisen over the use of a DVR / TV to be used and played during diving competition, as is seen at some schools. Officials are reminded that this equipment should be turned OFF during competition.
Rule 3-5 states, "Electronic devices shall not be used to transmit information to competitor(s) during the race or dive."
While the word "dive" is singular, Illinois has long held that to mean the entire diving EVENT, which consists of either six (6) or eleven (11) dives.
It is also important to note that using a DVR or other camera to record a diver during competition so that coaching and instruction may occur later IS acceptable. The rule only prohibits the transmission of images or information during an event. If the monitor is turned off or covered, the rule is satisfied.
Dual Confirmation Mechanics Clarification (added 9-4-18)
There has recently been a great deal of confusion (and therefore inconsistency) regarding dual-confirmation. When is it to be used? When is it not to be used? Do we raise a hand? If so, when?
Please refer to the following Q&A document, which hopefully will clarify things. The IHSA has reviewed and does support this information.
You may view the material by CLICKING HERE.