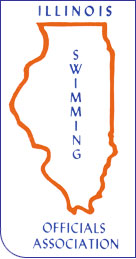 President
Vice-President
Secretary
Treasurer
Member-at-Large
Most Recent:
ISOA News
Ernie McKinnon
(added 3-17-19)
Former IHSA Swimming & Diving Official and ISOA Member Ernie McKinnon passed away peacefully at home on Friday, March 15 surrounded by friends and family.
Services for Ernie will be from 12pm-3pm on Saturday, March 23:
Morizzo Funeral Home
2550 Hassell Road
Hoffman Estates, IL 60169
ISOA Annual Awards (added 3-2-19)
Congratulations to the following ISOA members, who received ISOA Awards at the Regular Meeting held on February 23 in conjunction with the Boy's State Final:
Susan Mariottini - Rookie of the Year
Gerry Cassioppi - Most Improved Official
Nancy Myer - Official of the Year
NEW Site Feature !!! (added 3-2-19)
On the right side of the main site page, below the names of the officers, members will now see "quick links" to the most recent versions of our newsletter, treasurer's reports and meeting minutes. NOTE: These links will only appear on the home page, not every page on the site.
IHSA Officials Of The Year (added 2-10-19)
Congratulations to ISOA members Tom Strunk (Boy's Swimming) and Wendy Wozniak (Girl's Swimming) for being named IHSA Officials of the year in those sports. Tom and Wendy will receive their awards at the IHSA Official's Conference in Peoria in July.
The Long Whistle (added 1-31-19)
Please click the newsletter image below to read the latest version of the ISOA newsletter, "The Long Whistle."

The answers to the two rule scenarios listed will appear in the next newsletter.
Clarification - Starting Protocols (added 1-18-19)
Please review the attached document, which clarifies administration of the Starting Protocols. This material was discussed at a recent clinic, but is being provided to everyone in case you could not attend. We need to all be as consistent as possible at our meets.
Thank you, and please let me know if you have any questions.

Clarification - Rule 3-5, Electronic Equipment Use During Diving (added 10-5-18)
Recently, some confusion has arisen over the use of a DVR / TV to be used and played during diving competition, as is seen at some schools. Officials are reminded that this equipment should be turned OFF during competition.
Rule 3-5 states, "Electronic devices shall not be used to transmit information to competitor(s) during the race or dive."
While the word "dive" is singular, Illinois has long held that to mean the entire diving EVENT, which consists of either six (6) or eleven (11) dives.
It is also important to note that using a DVR or other camera to record a diver during competition so that coaching and instruction may occur later IS acceptable. The rule only prohibits the transmission of images or information during an event. If the monitor is turned off or covered, the rule is satisfied.
Clarification - Dual Confirmation Mechanics (added 9-4-18)
There has recently been a great deal of confusion (and therefore inconsistency) regarding dual-confirmation. When is it to be used? When is it not to be used? Do we raise a hand? If so, when?
Please refer to the following Q&A document, which hopefully will clarify things. The IHSA has reviewed and does support this information.
You may view the material by CLICKING HERE.